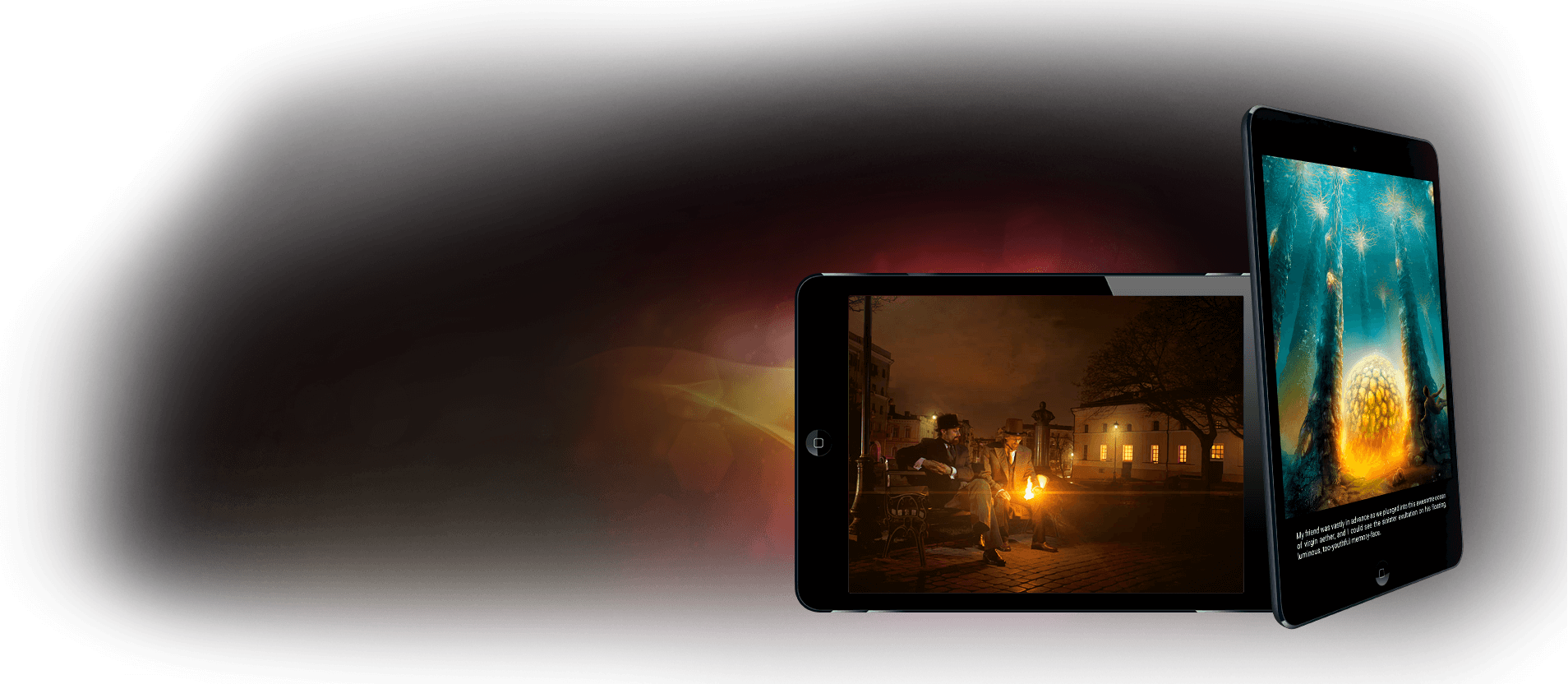 READ-LISTEN-WATCH
Try a new book-reading experience!
How many times do you say "the book is better" after watching a cinematic adaptation of your favorite story?
Rarely does a film capture the atmosphere and emotions of its literary original.
CINE-BOOKS creates screen versions of books that always contain the full original text while adding even more!
You can:
READ cine-books like regular written stories illustrated with cinematic quality photos on every page.
LISTEN to them as audio-books with professional voice-acting and background audio with musical inserts.
Or even WATCH them just like movies with dynamic animations and special effects that breathe new life into every story!
FULL CONTENT
Discover full original content of a book!
CINE-BOOKS is the world's most ambitious book-filming project.
Unlike regular movie adaptations, cine-books keep the full original text of the work while also adding a comprehensive and exciting visual side.
Every single episode of a book comes to life with our new cine-books format. You are invited to enjoy amazing graphics with special effects and sophisticated acting without missing a single word from the original story.
FRIENDS & FAMILY
Enjoy books together!
In today's busy world we often don't have enough time for our loved ones. Unfortunately, relaxing with a book takes you even further from them as only one person can enjoy a story at a time.
CINE-BOOKS offers an innovative breakthrough product which takes the art of writing and storytelling to another level.
By turning book-reading into a social activity, we bring people together and help you spend more time with your friends and family.
Enjoy on MANY platforms
CINE-BOOKS is a multiplatform channel of entertainment available on mobile - iOS, Android, Amazon and on the web.
Watch on the go
You can experience cine-books on your smartphone or tablet just wherever you go.
Watch on a big screen
You can share the cine-books from your tablet to a big screen via AirPlay.
Use any computer
Watch right on cine-books.com on any computer (PC/Mac).
Buy once – enjoy everywhere!
At CINE-BOOKS we make it easy for you to buy a book once and enjoy your content across multiple platforms at no additional cost.
Upon buying cine-books from our website you gain access to your purchased stories on all of your devices.
START FREE TRIAL
$14.99 per month. First 14 days FREE! Cancel anytime.