ENJOY ON MANY PLATFORMS
CINE-BOOKS is a multiplatform channel of entertainment available on mobile devices — iOS, Android, Amazon, and on the web!
Watch on the go
You can experience cine-books on your smartphone or tablet just wherever you go (iPad/iPhone, Android tablets and smartphones, Amazon Kindle Fires).
Watch on the web
Watch right on cine-books.com in your web browser on any computer (PC/Mac).
Watch at home on a big screen
You can stream cine-books from the app to a big screen via Chromecast or Airplay.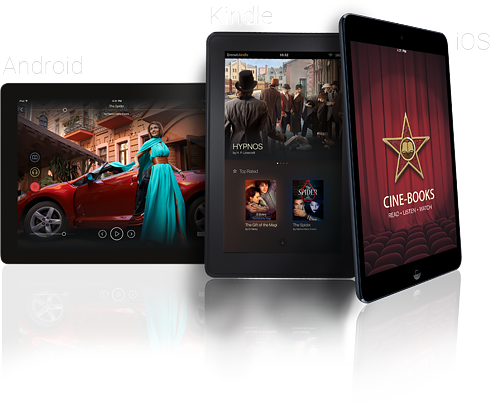 DOWNLOAD FREE APP:
COMING SOON
tvOS, Android TV, Amazon Fire TV, Roku, Gaming consoles
NOTE:
Books purchased on cine-books.com are available for use on all current and upcoming platforms.
Books bought as in-app purchases are available for 1 particular platform only.
The CINE-BOOKS app is available for smartphones and tablets that meet the following operating system requirements:

Amazon -4.4+
Android - 4.4+
iOS - 10.0+.

You can share the cine-books from CINE-BOOKS App to a big screen via Chromecast and AirPlay: